Outcome-based Learning Design
"Success is half won when one gains the habit of setting Smart Goals" Og Mandino.
It is essential for a teacher to set clear outcomes for each class – as the first step towards the charismatic & persuasive class.
A clear outcome needs the support of a good plan to convert it into a reality.
The role of a teacher is quite demanding. They are expected to be content experts with knowledge of various models and techniques to achieve specific objectives.
Then they need excellent skills
for Charismatic delivery of content

strong relationship bonds with children
The learning outcomes will be excellent for a student - if the teacher is a great storyteller and someone – whom the student can relate to.
With 30-35 periods in a week, and admin duties – TIME is always short for a teacher!!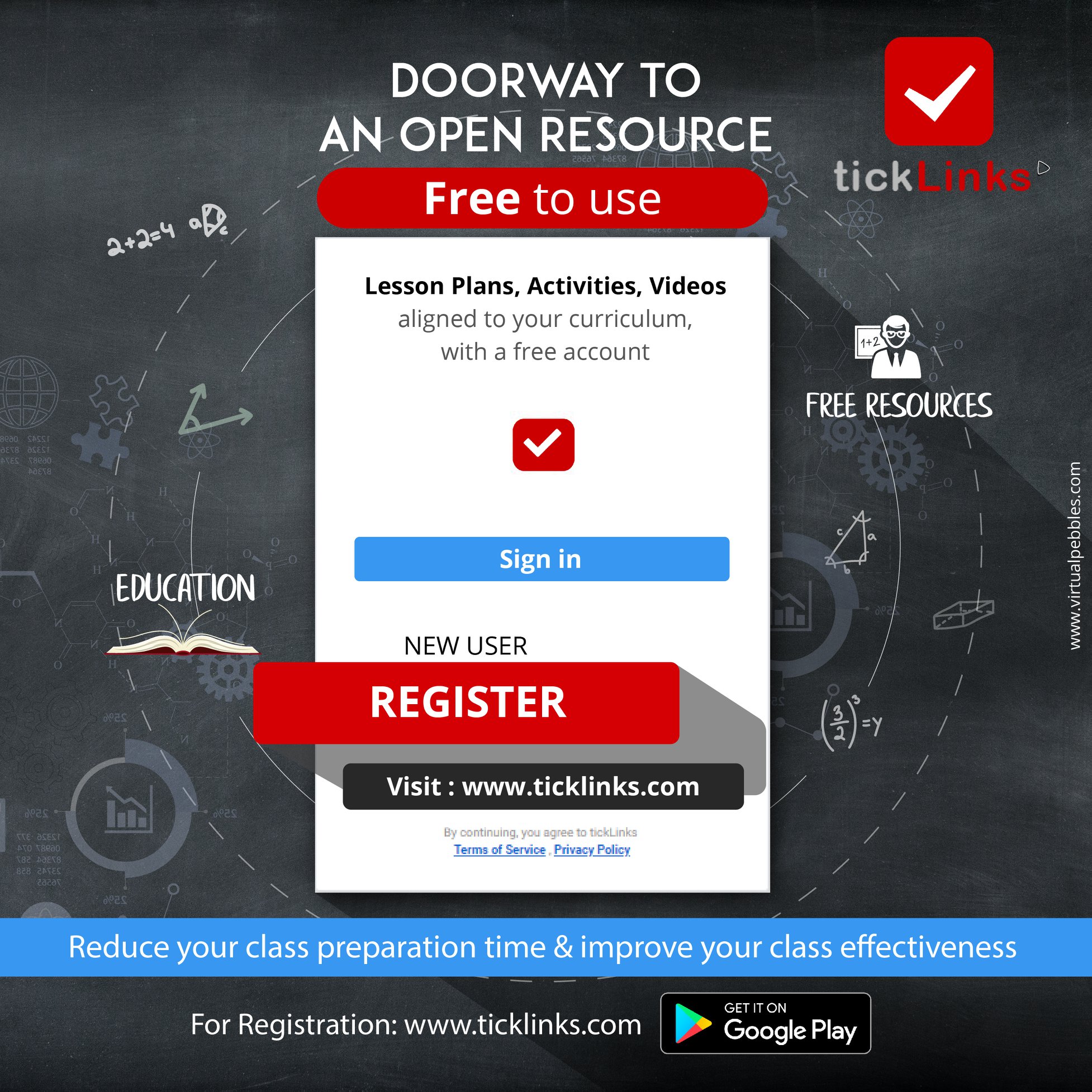 Learning Platform Software
How can we take some workload off the teachers?
tickLinks – helps. It provides lesson planning books, Library of Education, activities, worksheets, videos. These are aligned with the curriculum.
This content helps the teachers to make the class relevant and exciting with activities, worksheets, etc., and helps differentiated learning. It reduces class preparation time and helps effective classrooms.
TickLinks is like Wikipedia for a teacher
tickLinks is a website and mobile application that provides access to a curated and community ("Community") generated collection of educational resources, which are both links to third-party resources, as well as original resources. tickLinks is an online free tuition class, meant to provide digital educational facilities for low-income and government school teachers and children, and is supported by a charitable trust 'Open Links Foundation', registered in the state of Maharashtra, India
tickLinks mission is to connect the teachers to allow them to be more productive and successful. The Central to this mission is our commitment to being transparent about the data we collect about you.
We are a social network and online platform for teachers, parents, and students. Users visit our website to find learning material and to connect with others to find and share information.
BIGGEST open Link Library of Education Resources!
CBSE - Class X, CBSE - Class XI, CBSE - Class VII, CBSE - Class VIII, CBSE - Class IX, CBSE - Class XII, CBSE - Class VI, CBSE - Class IV, CBSE - Class V, CBSE - Class I, Class II, Class IIi.
Activity, Concept, Engage, Assessment, Demonstration, Entrance Exams, Practice Problem, Soft Skills, Solved Examples, Worksheet, Class V, Test. Make your class effective to get better outcomes and lower your work efforts. The more you contribute, your influences increase, and you can achieve further. Be the change that you wish to see in the world.
Ticklinks - an open community tool to get lesson plans, plan activities, assessments, and get free & right resources to make a classroom effective. Thoughtful, Affable, Courageous, Humble, Energetic, and Resourceful person - who does this sound like to us? A teacher, of course! Together with the community of all learners contributing to the Nation! Reduce your class preparation time & improve your class effectiveness. Find the right resources, right now.
Online Free Tuition Classes
Online classes for students by India's Top Teachers. Find the best and no.1 online tuition provider in India and learn with top online tutors and educators Download Free App.
E-Learning Application
E-learning is a change from the traditional education or training system to a more ICT-based personalized and flexible education system.
Learning Management Online, Free Learning Management, Online Free Tuition Classes, E-Learning Application, School Lesson Plans, Library of Education, Online Learning Platform, CBSE Board Curriculum, Online Classes for Students, E-Learning Activities, Punjab Board Curriculum, Free Online Learning Platform, Teachers Lesson Plans, wikipedia for teacher, Best Learning Management Systems, Open-source learning platform, Best Learning Management System Application, Best E-Learning Application, Best Online Learning Platforms, e-Learning Management System, Free & Open Source Learning Management Systems, Online Tutors, Online Tuition, Teachers, Online classes, Online Tuition & Online Learning with best Teachers for CBSE, Online Tuition with Best Teachers for CBSE, Best Online Tuition Classes in India, Best Online Tuition For CBSE, E-Learning Web Apps for Online Classroom, Lesson Plans, Free Classroom Lesson Plans, Lesson Plans For Teachers, Free Lesson Plans & Teacher Resources, Lesson Plans for Kids, Education Online Research Library, Library Education, Free Online Courses, Curriculum/Syllabus CBSE, CBSE Syllabus, Central Board of Secondary Education, Syllabus of CBSE Board, Best Online Courses & Online Programs, Online School Classes for Students, Benefits of Online Education, Syllabus Punjab Board Curriculum, Punjab Curriculum and Textbook Board, Punjab School Education Board Syllabus, PSEB Syllabus, Free Online Courses & Online Learning, Teacher Wikipedia, Teacher quality Wikipedia, Teacher in role Wikipedia, Teaching Students How to Use Wikipedia Wisely, Wikis in Education, teacher tools online, online teaching tools for teachers, best online teaching tools, teachers boards, lesson planning books, best tools for online teaching, online teaching tools for teachers free
(Certain content is taken from sources, owned by those writers and companies, not proprietary of tickLinks and we thank those companies for the same)