Online Free Tuition Classes
Achieving a Polished Classroom performance
I'd come home and spend most of the evening correcting homework and grading.
'What the hell am I going to do with two hundred teenagers tomorrow?' I would hope for a lightning bolt of creativity to strike. I suffered panic attack as I visualized myself standing in front of them empty handed, having no creative way to communicate the relevance of learning Algebraic Expressions and Identities.
During my BEd, I was told to regard each lesson as a polished stone - logically sequenced, caters to all learning types, provides enough wait time, is engaging, and flows seamlessly with the rest of the curriculum.
In reality, despite my best efforts, I was stitching lessons together up until the minute before they started.
What is the need for a lesson plan? Is the book and the curriculum not sufficient? No – that is the simple answer. The teacher uses the book to construct the "play" that will unfold in the class. There are many important aspects:
STEP 1. The first and most important thing is definition of clear outcome. Every presentation or play has a clear message and actionable for the audience. What will be students learn tomorrow? What will they be able to do after the period? How is it relevant for them? Remember if the goal is not defined – we will never reach it.
STEP 2. Once the goal is defined – the next step is to prepare to reach the goal – with suitable tools like presentations, activities, worksheets, case discussions, videos, time plan etc.. No journey can be undertaken without adequate preparation and tools.
STEP 3. Then the teacher has to mentally rehearse out their class. A few key questions that will cause wonder. Facilitating discussions, a few magical awe inspiring moments. And keeping in mind how to carry the variety of students at different levels in the class.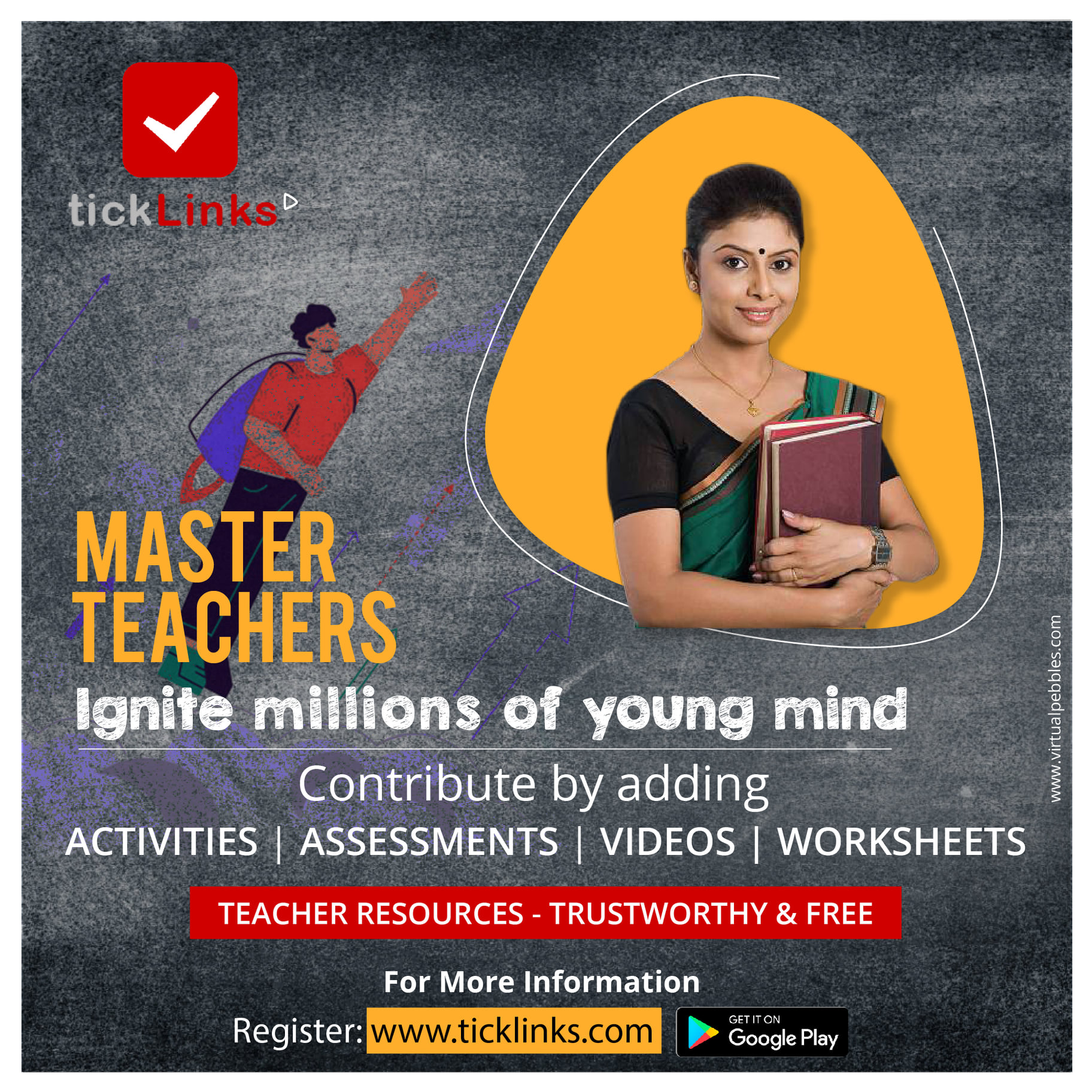 Would an experienced teacher not have all of these at their finger tips? Yes – but even the experienced teachers prepare for their classes – to deliver that fabulous performance every time. The students are different, there are new thoughts coming from internet and media etc.. There are many reasons why preparation and mental rehearsal before the class is must even for the most experienced teachers.
So where do teachers find so much time to prepare for their classes. They don't! This is one of the big challenges. In absence of proper preparation – the class sessions end up as teaching and students miss out on learning opportunity.
tickLinks helps teachers with curriculum aligned lesson outcomes, activities, case studies, worksheets, videos etc... for each period. This provides a ready framework for teachers to build on. And then the teachers can focus on class engagement and delivery.
Smart Learning Management Platform. Built for Global Enterprises and a new-age workforce. The best alternative for all your learning needs. tickLinks is a Learning Platform or course management system (CMS) - a free Open Source software.
What is a learning platform?
A learning platform is an integrated set of interactive online services that provide teachers, learners, parents and others involved in education with information, tools and resources to support and enhance educational delivery and management.
What makes a good learning platform?
A good eLearning platform that is engaging and focused on the learner ensures that a course becomes something more than just knowledge absorption. It turns the whole idea of learning into a pleasant, immersive experience.
What is digital learning platforms?
A digital learning platform is a piece of software designed to heavily assist during the educational process. ... They include: learning management systems (LMS), learning content management systems (LCMS), as well as virtual classroom tools and virtual learning environments (VLE).
Learning Management Online, Free Learning Management, Online Free Tuition Classes, E-Learning Application, School Lesson Plans, Library of Education, Online Learning Platform, CBSE Board Curriculum, Online Classes for Students, E-Learning Activities, Punjab Board Curriculum, Free Online Learning Platform, Teachers Lesson Plans, wikipedia for teacher, Best Learning Management Systems, Open-source learning platform, Best Learning Management System Application, Best E-Learning Application, Best Online Learning Platforms, e-Learning Management System, Free & Open Source Learning Management Systems, Online Tutors, Online Tuition, Teachers, Online classes, Online Tuition & Online Learning with best Teachers for CBSE, Online Tuition with Best Teachers for CBSE, Best Online Tuition Classes in India, Best Online Tuition For CBSE, E-Learning Web Apps for Online Classroom, Lesson Plans, Free Classroom Lesson Plans, Lesson Plans For Teachers, Free Lesson Plans & Teacher Resources, Lesson Plans for Kids, Education Online Research Library, Library Education, Free Online Courses, Curriculum/Syllabus CBSE, CBSE Syllabus, Central Board of Secondary Education, Syllabus of CBSE Board, Best Online Courses & Online Programs, Online School Classes for Students, Benefits of Online Education, Syllabus Punjab Board Curriculum, Punjab Curriculum and Textbook Board, Punjab School Education Board Syllabus, PSEB Syllabus, Free Online Courses & Online Learning, Teacher Wikipedia, Teacher quality Wikipedia, Teacher in role Wikipedia, Teaching Students How to Use Wikipedia Wisely, Wikis in Education, teacher tools online, online teaching tools for teachers, best online teaching tools, teachers boards, lesson planning books, best tools for online teaching, online teaching tools for teachers free
(Certain content is taken from sources, owned by those writers and companies, not proprietary of tickLinks and we thank those companies for the same)